The 2-33 fuselage and wings went to the Skunkworks early December and were back at Springfield before the end of the year.  Thanks to the CAP for loaning us their trailer for to make this happen.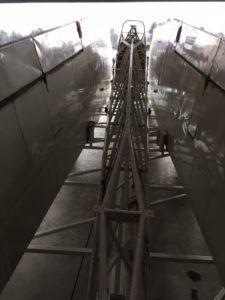 The fuselage looks good and has been primed ready for the second half of the project – recovering!.  All covering materials have been purchased.  Bill has already constructed a  fuselage 'rotisserie' and begun inspecting the wheel, cables etc. to determine what if anything we should replace prior to recover.
We will be reaching out for volunteers as needed to assist with the recovering etc. which will be a good winter club project and a great chance to help out the club and to  learn about fabric work etc.  Thanks in advance to all involved.
Alasdair