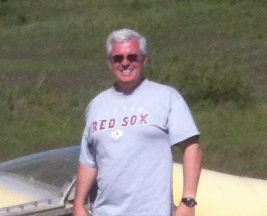 CFIG John Williams frequently challenges the NESA student pilots with "Glider Questions of the Day" and offers bits of "Williams' Wisdom".   We now offer his challenges to all.  Enjoy!
Here's a question or two to help you prepare for your FAA Glider Private Pilot Knowledge Exam, the ole Written, which is now on a computer.
1.  A pilot should be able to overcome the symptoms or avoid future occurrences of hyperventilation by?
A.  Increasing the breathing rate in order to lung ventilation
B.  Closely monitoring the flight instruments to control the aircraft
C.  Slowing the breathing rate, breathing into a bag, or talking aloud
2.  Pilots are more subject to spatial disorientation if?
A.  They ignore the sensations of muscles and inner ear
B.  Visual cues are taken away, as they are in instrument meteorological conditions
C.  Eyes are moved often in the process of cross-checking the flight instruments
3.  What is the purpose of the rudder on an aircraft?
A.  To control the over banking tendency (Hint…this is Tom Knauff's all time favorite question)
B.  To control roll
C.  To control yaw
D.  To turn the aircraft
4.  Which factor would tend to increase the density altitude at a given airport?  (Did you take the AOPA density altitude course and quiz)
A.  A decrease in relative humidity
B.  An increase in barometric pressure
C.  An increase in ambient temperature
5.  The width of a Federal Airway from either side of the centerline is?  (Yes, this does apply to gliders, even the non-motor glider types, if you wish to fly aerobatics, you need to know this)
A.  Eight nautical miles
B.  Four nautical miles
C.  Six nautical miles
6.  Who is responsible for determining whether a pilot is fit to fly for a particular flight, even though he or she holds a current medical certificate?
A.  The Medical Examiner
B.  The FAA
C.  The pilot
7.  Regarding alcohol, a person may not act as a crewmember of a civil aircraft under what elapsed time after consumption, and blood alcohol content level?
A.  24 hours and 0.04
B.  12 hours and 0.4
C.  8 hours and 0.04
Scroll down for the answers…
# 1 is C.  AIM 8-1-3 and FAA Private Pilot Practical Test Standards for Glider or FAA-S-8081-22 with Change One or simply the PTS, this requirement is on page 1-3, Task 1 E 1 B
# 2 is B.  FAA Pilot's Handbook of Aeronautical Knowledge or FAA-H-8083-25A, Chapter 16 and PTS, this requirement is on page 1-3, Task 1 E 1 D
# 3 is C.  FAA Pilot's Handbook of Aeronautical Knowledge or FAA-H-8083-25A, Chapter 5 and PTS page 1-21 & 22, Areas VII and VIII
# 4 is C.   FAA Pilot's Handbook of Aeronautical Knowledge or FAA-H-8083-25A, Chapter 10 and PTS page 1-2 Task 1 D 5
# 5 is B.  FAA Pilot's Handbook of Aeronautical Knowledge or FAA-H-8083-25A, Chapter 14 and PTS page 1-21 & 22, Areas VIII, Tasks A & B, as well as US Title 14 CFR 91. 303(a)(d)
# 6 is C.  AIM Chapter 8, specifically reference page 8-1-1, paragraph 8-1-1 ( i ), the description and discussion of the IMSAFE model and AIM 8-1-1(2) C and D.  Plus CFR 61.53(b) requires a pilot to self-ground under certain medical conditions.  Yes, even glider pilots without a FAA Medical Certificate and by the way, this trumps CFR 61.23(b)(3).  And and PTS page 1-3 Task 1 E 2
# 7 is C.  AIM 8-1-1d and CFR 91.17(a) and PTS page 1-3 Task 1 E 2