New England Soaring Association (NESA) will once again host a sports and bus class regional contest at KVSF (Springfield, VT) in 2018.
The contest will be held taking advantage of the July 4th holiday period.  Practice Days will be  Saturday June 30th and Sunday July 1st, with contest days Mon 2nd – Sat 7th, July.
Results & Reports                Live Tracking
Contest Classes
There will be two classes – Sports and 'Bus'.
The Bus class is intended to encourage clubs to bring a two seater, and more importantly bring members new to contests. Generally, this class features an experienced instructor pilot and a rotating cast of copilots new to the racing scene. What a great way to contribute to the growth of cross-country and competition soaring!
Minimum pilot experience for Regional Contest entry is to hold at least a Silver badge. Don't have your silver yet?, then encourage your club to enter a "Bus" and experience it that way, with a qualified pilot in the drivers seat.
Shapiro Trophy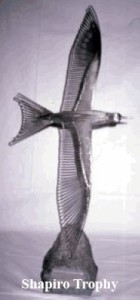 The Shapiro trophy is awarded for the best overall performance in a Region 1 contest.
Additionally we have created two new laser-cut custom trophies that will be awarded to the individual Sports and Bus class winners (or each weekends winners if classes are combined).
.
.
 Contacts
Contest Director: TBA
Contest Manager:  Alasdair Crawford   (603)-667-5358
Scorer:           Chris Giacomo
Camping and Lodging Options:
Camping is available on field.  Limited hook-ups are available. Free on-site showers available.
The Vermont CAP Glider Wing has also generously made their on-airport bunk rooms and trailer facilities available for campers.  CAP Accommodation priority will be given first to visiting tow-pilots, visiting junior 'Bus Riders' and then to visiting pilots.  To request Bunk accommodation please note your request in the 'Additional Information' section of your contest application.  Available space will be assigned first-come-first-served based upon submitted application dates.
For non-campers, the following local accommodations are available:
Holiday Inn Express, Springfield VT   Fullerton Inn, Chester VT
Some favorite Local Restaurants & Pubs:
BlackRock Steakhouse      56 Main      The Weathersfield Inn
MacLaomainn's Scottish Pub   The Pizza Stone
Other things to do in the local area:
There are many local recreation and attraction options including:
We look forward to seeing you in Vermont this summer.
Condor:
For Condor Users, scenery is available if you wish to familiarize yourself with the task area ahead of time  – Condor Scenery.
Some live Condor races will also be held leading up to the contest.  See the events calendar for details.  More details to follow.
Parachutes:
Parachute re-packs and maintenance will be available on Practice Day for anyone needing these services.  To arrange a re-pack contact Daryl Smith at AVpacer@Mindspring.com: